Partners In Education with Columbia Public Schools:  Partnership with Benton Elementary School
Our branch is now a Partnership Friend with Benton Elementary School in Columbia.  The school is a STEM school, and we are supporting this goal.  STEM, the abbreviation for Science, Technology, Engineering, and Mathematics, puts the emphasis on problem-solving and critical thinking skills.  Children at STEM schools focus on learning that inspires them and exposes them to a variety of career opportunities.  This is a particularly important move as Benton is a school wide Title 1 building.  Over 90% of the students qualify for free or reduced lunch.
Members of the branch committee met with Troy Hogg, the principal of the school, Craig Adams, practical arts coordinator, and Michelle Baumstark, CPS community relations to discuss how AAUW can support Benton through activities, contributions and mentoring.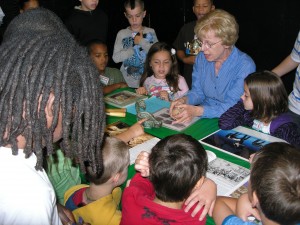 Benton STEM (Science, Technology, Engineering, and Math) Elementary is very excited to be Partnering with AAUW to promote and enhance the new STEM Centered Learning Program.
In September 2011, and again in September 2012, members participated in Benton's STEM Showcase to help peak the curiosity and interest of the students, families, and community.
Columbia AAUW, represented by Alice Reese (left) and Marianne Fues (right) stand with the fourth grade class from AAUW's Partnership Friend, Benton Elementary School, at The Museum of Art and Archaeology.
Raising Our Half Of The Sky Committee
Inspired by the chilling problems and hopeful solutions described in Half the Sky by Nicholas D. Kristof and Sheryl WuDunn and by the national AAUW's advocacy work and by other branches' programs, a special committee on Raising Our Half of the Sky (ROHS) has been formed. Its purpose is to contribute to the effort to turn oppression into opportunity for women.
This committee seeks to
Raise awareness of members and others in the community of the life-threatening dangers many women face and the importance of economic empowerment in improving their lives and those of their families.
Encourage individual members to donate time and money to groups that operate effective programs in this region and other countries.
Raise funds for one or more specific programs, including an education program honoring the late Ellen Flottman, the leader of the book group who asked, "What can we do?"