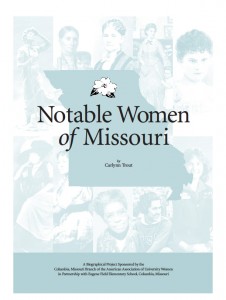 Notable Women of Missouri, Digital Version
by Carlynn Trout
Copyright © 2006 by Columbia, Missouri Branch, American Association of University Women
This digital collection offers biographies of important Missouri women. Each biography was designed to enrich the teaching and understanding of Missouri history. The women featured represent diverse groups including artists, athletes, businesswomen, doctors, educators, philanthropists, public servants, scientists, and writers. They are of various races and come from different backgrounds and times.
Notable Women of Missouri was first executed in 2004-06 as a printed publication with accompanying images and, through grants from financial sponsors, was made available to all elementary students in Columbia, as well as some schools in Kansas City and St. Louis, Missouri. This digital version includes the biographical text only and is offered as a means of broadening distribution to students throughout the state of Missouri and beyond. Both versions of Notable Women of Missouri are an extension of the two-volume Missouri AAUW publication Show Me Missouri Women: Selected Biographies (1989, 1993).
The Columbia branch remains appreciative of the project's financial supporters: Columbia Public Schools Foundation, the Richard S. Brownlee Fund of The State Historical Society, Women's and Gender Studies, University of Missouri-Columbia, and the Ten-Ten Foundation, Kansas City, Missouri.
About the Author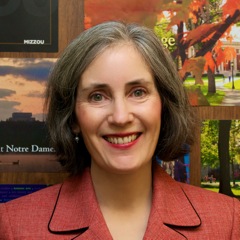 Carlynn Trout is an educator and writer living in Columbia, Missouri. Ms. Trout has designed and written many biographies for the Famous Missourians web site for The State Historical Society of Missouri. She has also worked as a writer and editor for educational textbook publishers such as Houghton Mifflin, Write Source, Harcourt Brace, Prentice Hall, and Silver, Burdett & Ginn on projects for grades K–10, ranging in subject matter from language arts to social studies, science, and mathematics. She is a graduate of Macalester College in St. Paul, Minnesota, and received her M.A. degree in English from the University of North Carolina, Chapel Hill.
Instructions for Individual and Classroom Use
These digital biographies may be read on-screen or projected onto a screen or an interactive white board. Each biography may also be printed, laminated, 3-hole punched, and compiled into a binder. A cover page and table of contents are available to complete the binder. Images of most of the biographical subjects are available on the Internet.